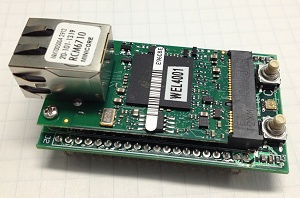 Introducing the WEL Ultra-OEM™
Designed exclusivley for HVAC equipment manufactuers
Just like its predecessors, the Ultra-OEM™ is designed to robustly poll a variety of sensors, perform the required data scaling, calculations or long-term treatments and then post the resulting data to a central web server. Server data-logging and charting capabilities will be still be available from WELserver.com, but the unit may also be directed to post its data to any other domain or IP address.
Unlike its predecessors, the Ultra-OEM™ has been designed from the ground up to be compact, easy to integrate with external circuitry, and simple to deploy in volume. The new 1.5" x 2.5" form factor module can plug directly into a customerís controller circuit, or into a generic development carrier. Sensors no longer need to be sequentially identified and named at each installation. A standard configuration can be automatically "cloned" to multiple Ultraís, and sensors will go "on-line" as soon as soon as they are connected.
This page provides links to documents that describe the newly developed WEL Ultra-OEM™ Module (sometimes just called the "Ultra").

Much of the current information is still preliminary, and reflects the state of the hardware and firmware currently being field tested. Linked documents will continue to be updated.

The goal is for these documents to provide an equipment manufacturer the information they need to add the WEL Ultra to their own equipment.

Enjoy.

Phil Malone.